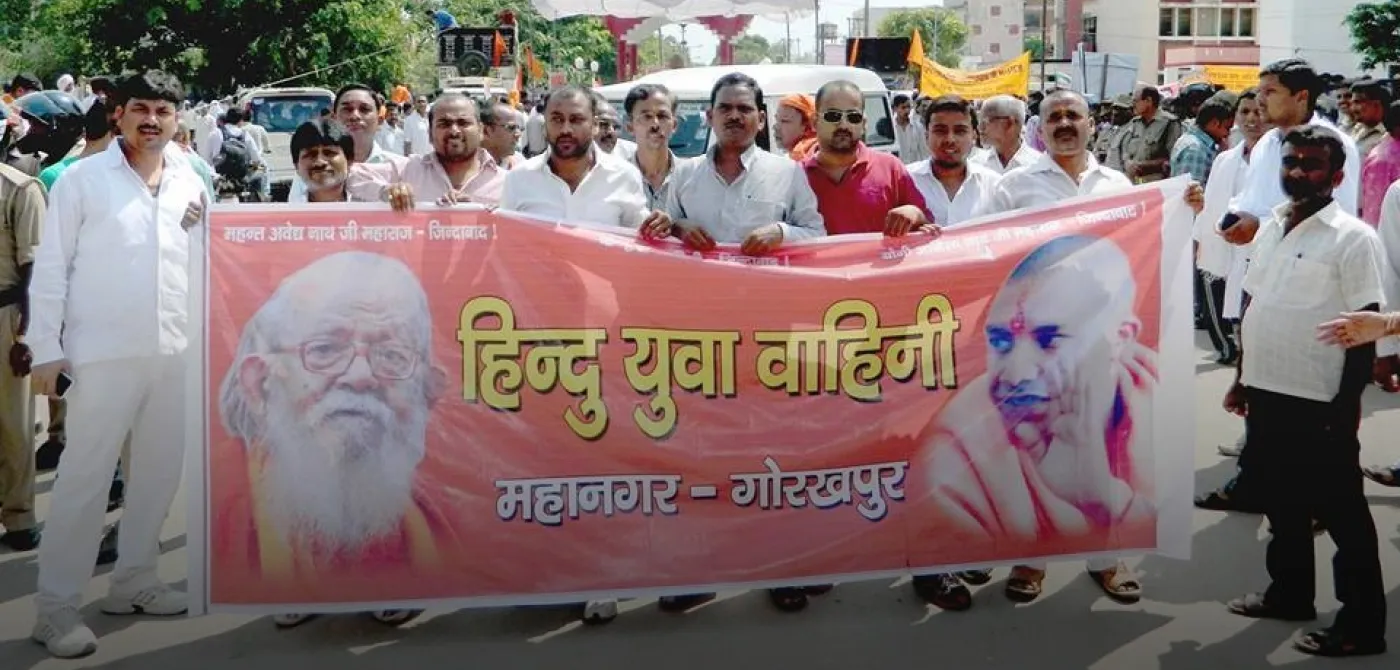 Hindutva's Freelancers
Vigilante Groups in North India
Mimetic and aspirational groups, only loosely connected to the BJP and the RSS, are propelling the growth of Hindutva in north India. They draw impunity from communalised forms of caste assertion and mark the decentralisation of hate.
In recent times, a distinct feature of anti-Muslim violence in north India has emerged: the rise of autonomous and anonymous vigilantes. These vigilantes are seldom formally a part of the Bharatiya Janata Party (BJP), the Rashtriya Swayamsevak Sangh (RSS), or associate organisations like the Bajrang Dal. Rather, they are mimetic and aspirational groups, a development that marks a decentralisation of hate.
Their sense of impunity emerges from the way Hindu groups increasingly see themselves as gatekeepers of Hindu sovereignty. Such communal consciousness finds articulation in acts such as heckling, waylaying, lynching, and online trolling, outside the fold of organised right-wing organisations. These new political agents organise and operate independently but have a mutually beneficial relationship with organised right-wing networks. The rise of such persons, who operate outside of formal Hindutva groups is a cause for worry, as there is little by way of accountability or control on actions as they compete to deepen communal hatred.
Hindutva playing field
The emergence of numerous intimidatory youth groups — going by the names of clubs, dals, senas, or vahinis — aspiring to local relevance now co-exists with a vigilante state and its functionaries. The existence of such groups propels the grassroots mobilisation of the Hindutva ideology in north India. They become organisers of local caste mahapanchayats, online trolls, or vigilantes protesting cow slaughter and religious conversion.
The popularity of such groups mirrors the rise of the Hindu Yuva Vahini, a vigilante outfit that owes allegiance to Adityanath and helped propel his career from a monk to the chief ministership of Uttar Pradesh. Such groups have a fluid relationship with the BJP and the RSS. While the BJP might find it difficult to rein in these groups, they are nonetheless appropriated through covert support and by ignoring their violence.
The notoriety of the mukhbir has made its appeal grow even amongst Muslim youth, who see their role as police informers as a form of security against possible arrests or extrajudicial murder.
Uttar Pradesh has been kind to such violent actors, especially when they appear as informers (mukhbirs), offering the police tip-offs on cattle theft, drugs, or possession of illegal weapons. While mukhbirs have been on the informal payroll of police for decades in western Uttar Pradesh, to tell on rivals or to protect their own illegal interests, after 2017, much of the mukhbirs shifted to informing on cattle traders or wage-earning Muslims. Increasingly, networks of mukbhirs are controlled by youth groups whose bosses are aligned with the ruling dispensation. These developments coincided with an anti-crime policy put in place by Adityanath that gives the police tremendous impunity to rein in alleged criminals through shootouts and extrajudicial killings via 'encounters'.
The new policy enabled the continuance of human rights violations disguised as operations to clean up crime. In a majority of reported acts of police atrocities since 2017, the mukhbir shows up repeatedly as having led the police party to the site where 'gun fights' were reported. Tips from mukhbirs have led to an increasing number of persons invested in cattle trade either being shot in 'encounters' or charged under the National Security Act. Wage-earning Muslim youth form a significant number of the 3300 injuries and 150 deaths caused in these police encounters.
The anonymity of the mukhbir assumes a role that appears apolitical and unfettered from the organisational structure of the BJP or the RSS. The notoriety of the mukhbir has made its appeal grow even amongst Muslim youth, who see their role as police informers as a form of security against possible arrests or extrajudicial murder.
(Inter)caste solidarities
Asif Khan, a resident of Nuh in Mewat, Haryana, was waylaid and lynched in broad daylight on the Gurgaon–Alwar highway in mid-May 2021. The mob, armed with sticks and rods, used communal slurs as they beat up Asif and his two companions, before hauling him into a car. His corpse was later found a few kilometres way.
Following protests, the police arrested six out of the 14 accused. They were booked under charges of murder, arson, possession of illegal weapons, and wrongful confinement. (Left out though, was a charge under section 153A of the Indian Penal Code, which pertains to acts of communal violence and targeting of persons based on religion, caste, residence, and language.)
But the men accused of Asif's murder found immense support from among their Gujjar caste brethren in Haryana and U.P. Gujjar social media stars countered the allegations of communal motivations behind the lynching by putting out incendiary messages against the Muslims of Mewat.
One such supporter was Rocky Vardat, who goes by the name 'Rowdy Gujjar' on Instagram. With over three lakh followers, Vardat's popularity rests on his signature content in accented rural Haryanvi that appeals to fraternal Gujjar ties. In attacking the Mewati Muslims, he was conforming to his online performance of safeguarding and expressing Gujjar solidarity.
Vardat's page was just one of many pro-Hindutva Instagram pages flourishing across north India that use a similar trope of camaraderie to valorise caste identities. In May and June, these platforms flooded online spaces with anti–Muslim posts, united under similar kinds of solidarity. They asserted that Asif was responsible for luring Hindu women and his killing was to avenge community hurt. What followed were large gatherings in Haryana, where middle- and upper-caste Hindus rallied to the rescue of the accused. Mahapanchayats were organised, attended and addresses by mukhiyas or self-appointed leaders of castes.
Caste solidarities have been mobilised by the Hindutva project to feed the larger goal of Hindu sovereignty.
The ability of the Gujjars to rally around Asif's murderers was due to their ability to draw on the popular notion of the chatees biradari, the '36 castes' forming an idyllic and cohesive village unit expressed through reciprocal (jajmani) relations. In practice, this picture of a tranquil and timeless village effaces all indications of power, abuse, violence, and social excommunication. Cases of land grab, hate crimes, and caste atrocities are silenced through coercive diktats of the village panchayat (Chowdhury 2004), where dominant caste headmen press upon the victims in such matters to eschew juridical intervention in order to maintain the fraternal ties between the biradaris. Marginally placed caste groups in villages have little choice, but to withdraw their complaints or face socio-economic excommunication. (The Hathras rape and killing of a Dalit woman, for instance, was followed by similar persuasions, with upper castes mahapanchayats being organised to demand the release of the accused and plead their innocence.)
Such caste solidarities have been mobilised by the Hindutva project to feed the larger goal of Hindu sovereignty. Social media, caste sabhas and local festivals are platforms where caste histories are valorised and fed into ideas of assertion as samman (respect). The bhaichara (solidarity) of the chatees biradari is repeatedly invoked to right what the speakers claim were historical wrongs committed by jaichands — 'turncoat' medieval Hindu kings who aligned with Muslim invaders to 'enslave' the subcontinent. These appeals were key in building an alliance of castes under the Hindutva fold around the time of the Muzaffarnagar riots of 2013-14 and the elections afterwards. In West U.P. they brought together the Other Backward Class groups into an alliance with the BJP. (In the case of the Gujjars, the caste split along the lines of religion, with Muslim Gujjars moving closer to the Samajwadi Party and the Hindu Gujjars supporting the BJP.)
Biradari, samman and bhaichara have been evoked to retain support for the ruling dispensation under circumstances that might cause ruptures. In September 2021, ahead of the 2022  state elections, bhaichara was invoked to assuage Gujjar anger against Rajputs and Adityanath over the chief minister's inauguration of a statue of Mihir Bhoj, a 9th-century king claimed by both communities. The Gujjars were furious that ahead of the inauguration in Dadri, a reference on the plaque to the king being Gujjar was erased. As rumours swirled that this 'humiliation' was done on the instructions of Adityanath'— born a Thakur Rajput —Gujjars and Rajputs across Rajasthan, Haryana and U.P. traded charges. Gujjar khap mahapanchayats warned the government of serious consequences if their sense of hurt was not addressed.
Matters calmed down when BJP MLAs from Gujjar majority regions in Saharanpur and Shamli participated in these meetings and blamed 'local leaders' in Dadri for defacing the statue and bringing disrepute to the community. Bhaiaichara and the solidarity of biradaris was repeatedly invoked as a statue of Mihir Bhoj — with a plaque describing him as a "Gujjar emperor" — was unveiled in Saharanpur the presence of prominent khap elders and BJP leaders.
Imagining a Hindu Rashtra
The most prominent example of this decentralised ecosystem of hatred was the week-long Dharam Sansad in Hardwar, where saffron clad religious figures held forth on establishing a Hindu Rashtra.
The main organisers of the event included Yati Narsinghanand, whose rise from anonymity mirrors the trajectory of autonomous Hindutva actors who find a nesting space within the BJP.
Narsinghanand's meteoric rise can be traced back to the year 2018 when he sat on a fast in Bulandshahr, to demand the release of persons accused of killing Subodh Singh, a police inspector. (Singh was shot as he tried to confront a mob frenzied over discovering a cow carcass; before he was transferred to the town, he had been investigating the lynching of Mohammed Akhlaq in Dadri.)
Attempts to play catch up with Hindutva to appease the Hindu voter has meant that the Muslim question, the plea for redressal and justice will remain an unresolved matter.
Since his hunger strike, Narsinghanand has appeared more frequently in the news, primarily for spewing venom against Muslims from his base the Dasna Devi temple at Ghaziabad. Narsinghanand's elevation to Mahamadaleshwar of Juna Akhara, said to be the largest Naga Sadhu Akhara in the country, in October 2021, has left its imprint in the way these sansads have become infamous for their calls to violence to wipe out Muslims from India.
The Dharam Sansad shows how the far-right ecosystem has accommodated the many autonomous actors who have primarily led the charge against the Muslim in smalls qasbas across north India. It has given the movement a combative turn that dwarfs its earlier manifestations and recent attempts by opposition parties to play what is referred to as 'soft Hindutva'. Attempts to play catch up with Hindutva to appease the Hindu voter has meant that the Muslim question, the plea for redressal and justice, will remain an unresolved matter.
Conclusion
Caste-centred social media influencers, youth groups, and caste sabhas have inceasingly adopted the role of saviours of the Hindu faith. The autonomous actors in the Hindutva ecosystem draw impunity from these communalised forms of caste assertion.The recent Dharam Sansads reveal how proponents of Hindutva have adopted a position on violence and intimidation that dwarfs attempts by opposition parties to catch up with majority appeasement. The situation that does not portend well for the Muslim community. Even with a regime change, the troubling question of justice and reconciliation will remain unaddressed.
This article was last updated on February 18, 2022

The India Forum welcomes your comments on this article for the Forum/Letters section.
Write to: editor@theindiaforum.in
References
Chowdhury, Prem (2004): "Caste panchayats and the policing of marriage in Haryana: Enforcing kinship and territorial exogamy", Contributions to Indian Sociology, Vol 38, No 1 –2, pp 1–42
A decade after the law to end manual scavenging, thousands of workers continue to clean waste with little protection. The narrow framing of the law contributes to this state of affairs.
A new study of Patrick Geddes' work in in India underlines the urban planner's continued relevance to contemporary issues. But we have to ask ourselves why Geddes's ideas have failed to gain traction among our policymakers.
'There is law that applies to certain criminal activities, which are usually connected to older, corporal forms of power and profit, but there is a clear lack of law, or its applicability, to newer and currently dominant forms of 'incorporal' power and profit.'
Sign up for The India Forum Updates
Get new articles delivered to your inbox every Friday as soon as fresh articles are published.
The India Forum seeks your support...
to sustain its effort to deliver thoughtful analysis and commentary that is without noise, abuse and fake news.
You can donate any amount of your choice either once, every month or every year.