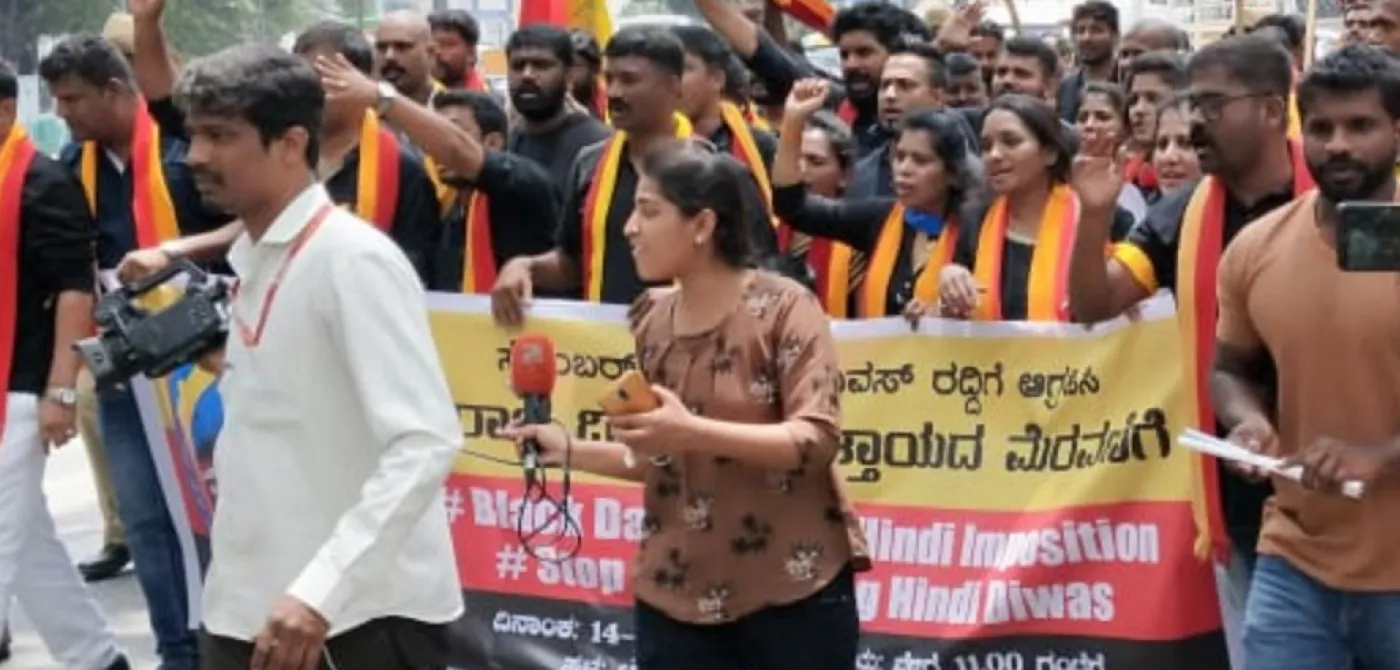 Loud Mouths and Invisible Tails: The New Hindi-Hindu-Hindustan Debate
There is growing conviction that the nation, language, and religion are one. Hindi ideologues see only Hindi as authentically Indian and Hindu. The current rhetoric is reminiscent of the 'Hindi-wallahs' in the early 20th century.
Ajay Devgn's recent tweet about Hindi being India's national language is not an isolated incident of an actor from the Hindi film industry being mistaken about the national language question 1For the uninitiated, 22 Indian languages are officially recognised and listed in the Eighth Schedule of the Indian Constitution. These 22 languages—along with English—have statuary recognition at the national level, with Hindi and English qualifying as associate official [not national] languages. . Devgn's claim is part of a larger emergent conviction to merge nation, language, and religion. And, in its wake, it is not just 'foreign' languages that are demonised. The demons also comprise other Indian languages. This includes south Indian languages such as Tamil and Telugu, which presumably do not pass the test of nationalism with their north Indian overlords, given their long, often violent, histories of resistance to Hindi — and north Indian — hegemony.
But the ire of Hindi ideologues is especially directed at Urdu, as a pattern emerges of ascribing communal — even national — identities to various Indian languages, in which only Hindi is upheld as autochthonously Indian and Hindu. As an example of this ongoing strife, Bharatiya Janata Party (BJP) leader Tejasvi Surya led a campaign in 2021 to boycott clothing company Fabindia after it issued an advertisement around Diwali in which an Urdu phrase, jashn-e riwaaz, was used to refer to the festival. Surya's claim was that the Urdu word made the entire campaign anti-Hindu and anti-Indian. More recently, the Central Board of Secondary Education (CBSE) removed the Urdu poems of Faiz Ahmed Faiz from school textbooks. One of the leaders of the Progressive Writer's Movement, Faiz moved to Pakistan after the Partition. His language and national identity presumably sit uneasily with the present politics and agenda of the CBSE.
Bollywood, drawing its impetus from current politics, is leading the way with anti-Muslim, anti-Urdu, and anti-Pakistan films. Films such as The Kashmir Files (2022), Sooryavanshi (2021), and Tanhaji (2020), which aggrandise Hindu protagonists and demonise Urdu-speaking Muslims, contribute to this project. (Trivia question: how do you identify a Muslim, a Pakistani, or a terrorist character in Bollywood films? Answer: Note the repeated usage of Urdu words, especially janaab or mohtarma, in their speech.)
The Hindi-wallahs [...] urged the majority Hindu population of India to seek their identity through the Hindi language as part of a larger plan to create India as an authentically Hindu space.
As I read the misguided ongoing defences of 'Hindi hamari matra bhasha aur rashtra bhasha thi, aur hamesha rahegi' (Hindi is our mother tongue and our national language, and will always remain so), I was struck by how resonant this rhetoric was with that of 'Hindi-wallahs', a politically defined group who sought to marry Hindi, Hindu, and Hindustan, at the turn of the 20th century, the time the subcontinent started agitating for independence .
Mostly consisting of members of the right-wing orbit of the Congress Party, the Hindi-wallahs were led by P.D. Tandon. Alok Rai, in his book Hindi Nationalism (2000), refers to this group as the "sanctimonious abductors of the Hindi language" for the way in which this group claimed the Hindi language for its politically engineered agenda. In conjunction with the literary organisation set up for the promotion of Hindi writers — the Hindi Sahitya Sammelan, with whom they were aligned — the Hindi-wallahs pushed for the adoption of Hindi as the national language of India and urged the majority Hindu population of India to seek their identity through the Hindi language as part of a larger plan to create India as an authentically Hindu space.
Tandon was, incidentally, involved in the inception of the Sammelan too, and explicitly wrote about the language politics of the organisation to M.K. Gandhi: "The Sammelan considers Hindi as the national language […] In itself, it simply works for the Hindi form, not for Urdu." For the Hindi-wallahs, Urdu was metonymic with Pakistan and they argued for the complete congruence between the political, religious, and linguistic identities of the nation. With this in mind, Tandon called for Hindi to become the national language of India during the Constituent Assembly debates, stating clearly that "those who oppose acceptance of Hindi as the national language and Nagari as the single national script [...] are still following a policy of anti-national appeasement" (Hindustan Times, 8 August 1949).
The conflation of anti-Hindi and anti-Hindu as anti-national will seem familiar to anyone who has been attentive to political rhetoric in India over the past few years.
However, the crucial lesson that Ajay Devgn (and many other Hindi crusaders like him) seems to have missed is that this dream was never formalised, despite the combined efforts of a number of Hindi writers who sought to take this demarche forward. Hindi and Hindu nationalism found their fullest expression through art and literature, such as Pratap Narain Misra's rousing verse "Chahuhun ju sancho nij kalyan/ To sab mili Bharat santan/ Japo nirantar ek jabaan/ Hindi, Hindu, Hindustan" (If you really want your own welfare,/ Then unite, O children of Bharat!/ Chant unendingly in one language/ Hindi, Hindu, Hindustan!); or the poetry of Manoranjan Prasad, who in 1922 published the following lines, "Hum Hind tanya hai — Hindi maathamari/ Bhasha hum sab ki ek maatr Hindi hai,/ Aasha hum sab ki ek maatr Hindi hai…/ Bharat ki to bas praankahi Hindi hai" — We are the sons of Hind — Hindi is our mother/ Our only language is Hindi, / our only hope is Hindi/ This Hindi is the life of India. (Charu Gupta's translation).
Many prominent Hindi writers [...] formed part of the resistance against the Hindi-wallahs' self-appointed agenda — both through their work and through their very being.
This made the language question an emotional point to rally Hindu nationalistic feelings around. But the dream of making Hindi a national language was never to be fulfilled—thanks largely to substantial opposition to Hindi-wallah politics.The result of the language debates held by the Constituent Assembly was the adoption of the Munshi-Ayyangar formula, which held that Hindi and English would be joint official languages for a period of 15 years, at which time this decision would be revisited. No single national language was named then — or 15 years later, or even 75 years later! Here is the first Prime Minister of India, Jawaharlal Nehru, explicitly stating his views on this contest over national language:

In these matters of language, one has to be very careful. One has to be as liberal as possible and not try to suppress a language. We should not try to coerce anybody into using a language, as far as possible. … The makers of our Constitution were wise in laying down that all languages were to be languages of equal status. There is no question of any one language being a more national language than another. I want to make that perfectly clear. Bengali or Tamil is as much an Indian national language as Hindi. (Quoted in King 1997: 219)
Along with Nehru, the strongest opponents of the Hindi-wallahs were other Hindi writers themselves. Many prominent Hindi writers, such as Munshi Premchand and Suryakant Tripathi Nirala formed part of the resistance against the Hindi-wallahs' self-appointed agenda — both through their work and through their very being.
Neither Premchand nor Nirala painted hagiographic images of Hindu society — as the Hindi-wallahs were wont to do. Premchand's Godan (1936), with its acerbic take down of the class and caste yoke in Hindu communities, and Nirala's Chaturi Chamar (1934), a sensitive story that exposes the exploitative caste system through the story of a shoe-maker, are excellent examples of works produced by these two writers which rejected the marriage of language with nationalist pride.
Their writing grappled with contemporary issues such as caste and gender discrimination, class struggles and exploitation, the anachronism of certain long-cherished rites and rituals, and the nationalist struggle in which people of all ethnic, linguistic, and communal backgrounds participated. Friendships and bonds were forged across class, caste, and religious boundaries in the writings of both, and the villain was not always the stock character of the "other" (the Muslim or the foreigner), but often someone living in their very midst, as an upholder of the ancient values that Hindi-wallahs would have deemed inviolable. 
More importantly, their prose itself gave proof of their syncretic politics, by representing India in its manifold religious, ethnic, and linguistic glory, for they wrote in what was then called Hindustani — a language that Nehru described as "the golden mean between Hindi and Urdu" for the way that it embraces the grammar and vocabulary of both, without communalising either. Premchand even used the Devanagari and Nastaliq script interchangeably, at least at the beginning of his career.
Through much of the 1920s and even 1930s, Hindustani could represent both Hindi and Urdu speakers in some regions, without demarcation, as proven in the 1921 and 1931 census in which 99.75% and 99.68% respectively of the United Provinces  population reported Hindustani as their mother tongue. And yet, after Partition, Hindustani was barely registered anywhere as a language in its own right and disappeared completely as a linguistic category in any subsequent official record. Granville Austin (1999) quotes former Congress politician K. Santhanam on this in his book, "If there had been no Partition, Hindustani would without doubt have been the national language […] but the anger against Muslims turned against Urdu […] Hindustani became a bad word after Partition" (277).
Whenever the idea of the nation is re-evaluated […] the question of language is vociferously debated, with little regard for the languages themselves...
Premchand's and Nirala's affections for the kind of linguistic convergence that Hindustani stood for was obvious, as suggested by their literary affiliations and sympathies. Significantly, instead of the Sammelan, Premchand was closely allied with the All India Progressive Writers' Association (AIPWA) — a cross-linguistic nationalist literary organisation that included writers from all Indian languages, including English. Unlike the Sammelan, the AIPWA had a pan-linguistic agenda and no formal political affiliation. When invited to speak at the Sammelan as one of the most notable Hindi writers of his time, Nirala openly clashed with the Hindi-wallahs over their agenda of making the Hindi language the bearer of such communalism.
Alok Rai writes,

In May-June 1938, there was a meeting of the provincial Sahitya Sammelan in Faizabad […] It appears that Nirala—already one of the biggest names in Hindi literature—was alarmed by the way in which the organisation had been taken over by people with a political/communal agenda, and attempted to raise his voice against it. He was manhandled by the "schoolmasters" and their loutish acolytes and made to shut up. Talking about the incident later, Nirala was prescient about the emergent "Hindi" culture of intolerance and servility: "Hindi wallon ki ek adrishya dum hoti hai" (Hindi-wallahs are endowed with an invisible tail) (2000: 108).
Nirala's usage of the symbol of the invisible vestigial tail is resonant because it represents a return to a primal, bestial state of being, acting as an agent of language. And this is indeed what happens every time that the character or idea of a nation is debated and called into question. Whenever the idea of the nation is re-evaluated — or there is an attempt to reinvent it — the question of language is vociferously debated, with little regard for the languages themselves, but with more investment in what each language represents. So, we see this debate flaring up in the lead up to Partition and Independence. It reemerges towards the end of the Nehru era, when a new political order is on the rise to take over the reins of the nation. It then comes back with the rise of the BJP in the 1990s.
As the current government's ethno-nationalist politics gains more and more of a grip over the nation, is it really a surprise that this adrishya dum seems to have found new life — and even the blessings of powerful contemporary politicians — as it wags again in the service of the singular aim to prime Hindi, purge Urdu, and create a semblance of supremacy of language even in parts of India where Hindi is not spoken as a primary language?
What does this resurgence of Hindi nationalist sentiment augur for India today? The writing is already on the wall, as we see India move away from its secular ethos to a more militant Hindu identity, with Bollywood becoming more and more of a vehicle for these voices. For now at least, not many dare to challenge this tedhi dum (crooked tail).
Vedita Cowaloosur is a California-based language teacher and writer. 
This article was last updated on July 14, 2022

The India Forum welcomes your comments on this article for the Forum/Letters section.
Write to: editor@theindiaforum.in
References
Austin, Granville (1999). The Indian Constitution: Cornerstone of a Nation, Oxford; New York: Oxford University Press.
King, Robert (1997). Nehru and the Language Politics of India, New Delhi: Oxford University Press.
Rai, Alok (2000). Hindi Nationalism, New Delhi: Orient Longman.
'There is law that applies to certain criminal activities, which are usually connected to older, corporal forms of power and profit, but there is a clear lack of law, or its applicability, to newer and currently dominant forms of 'incorporal' power and profit.'
Whose recourse to surrogacy is accepted socially and whose is frowned upon, or even legally prohibited, is a chequered terrain. Popular stereotypes have seeped into policymaking, even as social ways of family-making go beyond conventional usages of reproductive technologies.
Having grown up on mysteries and thrillers in both English and Urdu, Naim has produced a painstakingly researched volume that will also be of great interest to the reader of crime fiction.
Sign up for The India Forum Updates
Get new articles delivered to your inbox every Friday as soon as fresh articles are published.
The India Forum seeks your support...
to sustain its effort to deliver thoughtful analysis and commentary that is without noise, abuse and fake news.
You can donate any amount of your choice either once, every month or every year.