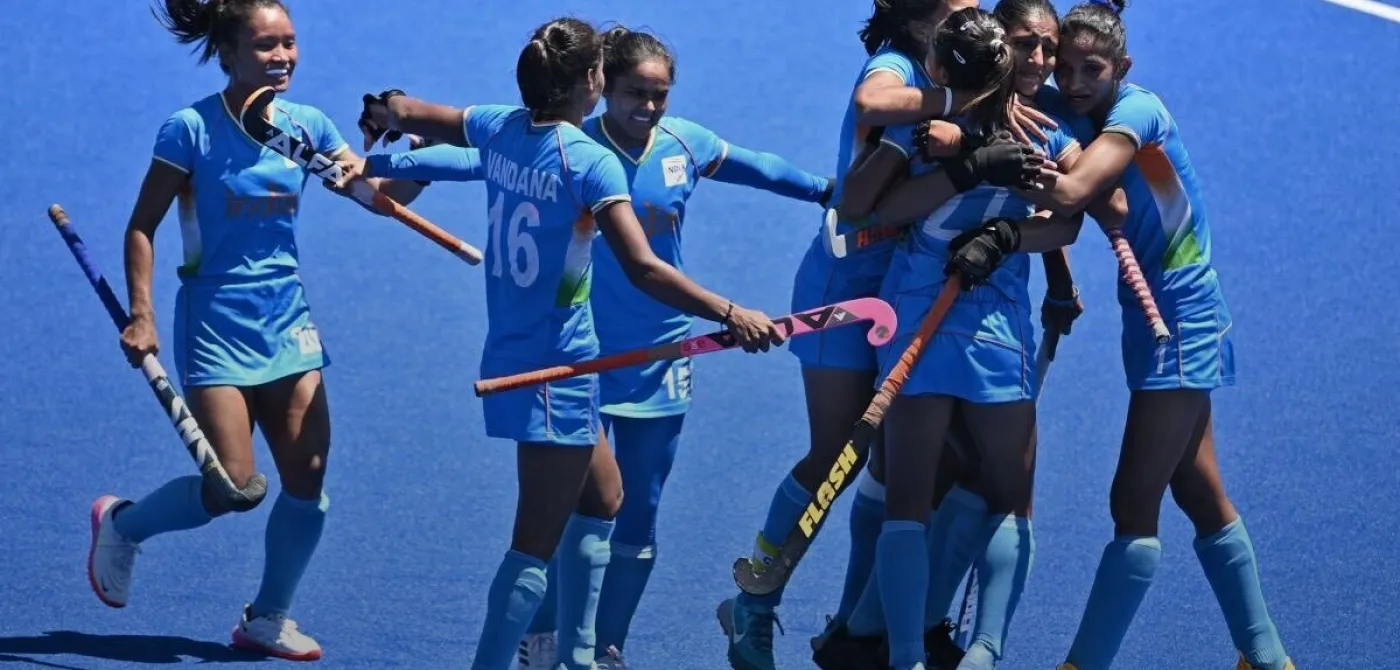 Seven Medallists at Tokyo, Seven Hundred Crowd the Podium
The Indian athletes at Tokyo gave it all they could but a familiar ugliness has surfaced after the event. Officials, politicians, and sponsors are jumping on to the bandwagon of the medallists, while some who failed face the wrath of officials.
To understand India's sporting structures, don't bother with counting Olympic medals. Take a closer look at what happens around the Olympic Games.
First, though, listen to the athletes. You will hear every Indian medallist thank — even before they do god — the government, the sports minister and ministry, the Sports Authority of India (SAI), their federation and its boss, the public sector organisation that originally hired them or the private organisations that are their facilitators or management teams. For athletes, these verbal garlands of gratitude are insurance policies. To secure their futures in sport as they are surrounded by those who believe that if they can make them, they could take them down too.
It's been a fortnight since the Tokyo Olympics ended and we are in the midst of the Paralympics. But Indian sport is in a state of what can only be called 'credit-grab Olympics'. It feels as if there is something like 700 people claiming credit for the seven medals won by the Indian athletes. It is an afterglow on afterburn, as big a slice of the publicity pizza as you can get.
It started at the very top. The prime minister's office moved faster anyone, getting first dibs on hooking Prime Minister Narendra Modi on live video to the athletes in Tokyo, then rapidly having the clips distributed through Twitter and news agency ANI. Could the torrential feed of the prime minister's social media and video 'support' have been stirred by Sony's inventive, neta-pleaser twist to the live coverage of the Olympics opening ceremony? As the Indian contingent marched in for its 10 seconds, Sony split its screen to show India's three-week-old sports minister Anurag Thakur with retinue, all on their feet, clapping and waving flags. India has had six sports ministers since 2014 over two Olympics, three among them serving for two years, of which two were reshuffled off the cameras months before the Games.
It's been a fortnight since the Tokyo Olympics ended and we are in the midst of the Paralympics but Indian sport is in a state of what can only be called "Credit-Grab Olympics".
Another instructive aspect of the celebrations around Tokyo was in plain sight in the banners marking occasions. On giant Guwahati billboards, Assam's chief minister Hemanta Biswa Sarma and sports minister Bimal Borah congratulated boxer Lovlina Borgohain, the state's first Olympic medallist. Borgohain, however, was nowhere to be seen on the signs, with only Sarma and Borah's visages dominating available acreage.
At the first official government ceremony welcoming the medal winners from Tokyo, the prime minister loomed large at the right of an enormous banner. The medal winners were on the left, like small respectful satellites around the radiant light. Only javelin gold medallist Neeraj Chopra was larger than the other six but in humble proportion to the biggest deity. Key lesson here: once their stuff is done, the athlete is not at the centre of Indian Olympic sport. That space, like always, is ceded to those who say 'we have made this happen', or to others attracted to the bright lights around athletes and come waving promises and large cheques.
Sports professional Aman Shah on Sunday reminded us that the Tokyo Olympic athletics champions and medallists were "out there" setting records and season bests when competing in elite Diamond League meets. Shah's personal tweet (disclaimer: Aman Shah works with JSW Sports) said "everything happening around Neeraj is again symbolic of why we're not a developed sporting nation [...] The support and love [for Chopra] is well intended but in most cases, the athletes, their achievements and medals have been reduced to nothing more than a photo-op, which is incredibly disappointing (and not necessarily surprising)."
In the publicity pizza, Chopra, the source and core of the real stuff, an Olympic gold-medal winning performance, has been turned into topping.
Neeraj Chopra: Disputed territory
Chopra's gold medal also brought the tug of war between federations, sports management organisations, SAI, and the ministry out in the open. His stunning performance became disputed territory, many claiming the major responsibility for his success. The Indian army that signed him on in 2016 talked about their sports institute. Chopra's managers at JSW Sports and its head Parth Jindal talked about managing the nuts and bolts of his ascent to the highest level of his sport. The Athletics Federation of India's (AFI) boss Adille Sumariwala brought in a range of multiple stakeholders – which is indeed true – and listed the Rs 7 crore spent on Neeraj and his medal. He also offered two-pages about the AFI and the growth of Indian track and field ever since he assumed office in 2012.
For anyone turning pale at the number, some context. According to one estimate, every medal won by the United Kingdom at the 2012 London Olympics cost 4.5 million pounds. At the 2012 exchange rate (averaging Rs 84 to the pound) that was Rs 37.8 crore per medal. On TV, Sumariwala went on a long run, saying the AFI had the largest grassroots programme in the world covering 500 districts. It was now in its 17th year with Chopra as one of its star products. When asked on Twitter by Hita Prakash, a journalist with Deccan Herald, for the details of the 17 years gone by, Sumariwala replied they could be found in the AFI's annual report and website. Prakash's tweet saying there were no details to be found of this revolutionary grassroots programme on the AFI website received no reply.
[O]nce their stuff is done, the athlete is not at the centre of Indian Olympic sport, that space, like always, is ceded.
Amrit Mathur, a retired bureaucrat and sports administrator, wrote a piece explaining the role of TOPS (Talent Olympic Programme Scheme) formulated by the SAI in 2014: "the realistic financial split of funding of elite athletes is 95-5 or 90-10 with the government doing the heavy lifting. But when it comes to taking credit, the ratio is flipped — a disproportionate 95% in favour of non-government."
It has always been this way. In the past, tax payers rupees were pumped in haphazardly by the government into federations with neither accounts nor accountability. The broader narrative around Indian Olympic performance was controlled and dictated by the Indian Olympic Association (IOA) and the federations. Today that narrative is smartly managed by the private entities, to the pique of the ministry's fund-distributors, the IOA, and the federations. No one prevents them from doing the same though, as Sumariwala's social media activity post-Chopra clearly indicates.
The private organisations — Olympic Gold Quest (founded in 2001), the Mittal Champions Trust (2005), Go Sports Foundation (2008), Lakshya Sports (2009), the Anglian Medal Hunt (2010) and the biggest recent entrant, JSW Sports — were established because the majority of India's sports federations were laggards, rife with inefficiencies, financial irregularities, and gargantuan egos. The success of these organisation in supporting athletes at the elite level has pushed federations to respond and while some things have changed in some federations, some things have not.
The private organisations...were established because the majority of India's sports federations' were laggards, rife with inefficiencies, financial irregularities and gargantuan egos.
When the seven-strong wrestling contingent in Tokyo returned with two medals, Wrestling Federation of India (WFI) president Brij Bhushan Sharan Singh, also a Bharatiya Janata Party parliamentarian, told The Tribune, "JSW, OGQ and in some way even TOPS have ruined our athletes. They do not do anything at the grassroots and just pick up the big talents. And the athletes that do not qualify, they dump them." A few days later, in an angry interview with the Indian Express, Singh said that any wrestlers connected with the private organisations would not be allowed to compete ("bilkul nahin khelne denge") and that while the WFI needed TOPS to be involved, it needed to be kept informed of the elite wrestlers' plans.
Grassroots is the new face-saver
'Grassroots' appears to be the new catchphrase that federation bosses are going to offer as a sign of their commitment in development initiatives, coaching expertise, progress, and medals, particularly now that their inadequacy in dealing with their elite athletes has been exposed by the competence of private bodies on the outside. Like Sumariwala's 500-district-17-year-programme, a sustained grassroots calendar and tournament schedule remains the biggest gap in India's sports ecosystems.
For the first time in history, for example, two Indian swimmers made it to the A-cut at the Olympics, which means the Olympics' qualifying time. Previously Indians made the B (universality) cut, a lower time, the swimmer qualifying in the event only if the A-cut slots are not filled. No doubt the Swimming Federation of India has a 20-year grassroots programme, hidden behind its CMS website, its deeds advertised on a Facebook page.
The Chopra gold medal has both revealed and concealed systemic flaws on both sides.
Neither the TOPS Scheme nor the private organisations ever claimed grassroots on their mandate or as area of interest. That was always meant to be the federations' job from the start, alongside helping their best athletes. They have been superseded by the private bodies with more efficient systems. The focus on the federations, what with the propensity of their bosses to lapse into social media speak, will now only increase because the internet will never let them forget what they said.
The Chopra gold medal has both revealed and concealed systemic flaws on both sides. Note that to honour Chopra's gold, the AFI has decided to mark 7 August as the National Javelin Day. "All our affiliated units will hold javelin competitions in the respective states (and union territories). And a year later, we will get all our 600-plus district units also to have similar competitions on August 7," said AFI Planning Committee chairman Lalit K. Bhanot.
In a more formal recognition of our first athletics Olympic champion than National Javelin Day, the army made an announcement via a press release that a stadium in its Sports Institute in Pune, would be named the Neeraj Chopra stadium.
Chopra will be touched by both gestures. But why not ask those 600 districts with their terrific grassroots programmes to use the 7th of every month — or every two months, or heck, if it is too much work, once every three months — to hold an overall athletics meet? Make the javelin the prime event, but when you have got such a large field in which to chuck a javelin, why not put a track around it and have girls and boys run? And jump? And hurdle? Regularly, so that the grassroots kids in those 500 districts have competitions that telescope into a proper state meet. Surely the last 17 years have seen the AFI create a 500-district set up of organisers, coaches, referees, starters, and time keepers who can run these things?
Distanced from the pulsating thrills of the track... post-Tokyo, Indian sport has methodically ticked many ugly boxes: sycophancy, glory-hunting, mediocre management, patriarchy, chauvinism and casteism.
In case anyone has forgotten, Bhanot, both mentioned in Sumariwala's tweets and in the curious position of head of the AFI planning commission, was arrested and jailed for a year in 2011 on corruption charges around the 2010 Commonwealth Games. At the time he was the AFI's longest serving official and was head of the then-named Amateur Athletics Federation of India for 15 years. During that tenure, when well into their district grassroots programme, India won no Olympics medals, won a silver at the world under-20 athletics championships and performed as competently at the Asian Games as it does even today. The highlights of Bhanot's 15-year tenure and two decades of involvement in Indian athletics are the women's 4x400m team making the Athens Olympics finals and long jumper Anju Bobby George won a world championship medal. She also won an IAAF World Athletics final gold, training overseas with her husband coach Bobby George and also finished fifth at the Athens Olympics.
As far as returns on involvement go, Bhanot's is not a record to be admired. It is no surprise that the AFI came up with National Javelin Day as an official response to the Chopra medal. It accurately reflects Bhanot's own track record and priority as the head of Indian athletics — aiming as always for low-hanging pieces of event-management fruit.
Across the last Olympic cycle, the foremost forward-thinking initiatives in sport, outside of TOPS, have come from government and from private parties. In 2016, post the Rio Olympics, Abhinav Bindra, India's first Olympic champion, launched the Abhinav Bindra Targeting Performance Centre in Mohali. (Five more were set up in Bangalore, Pune, Chandigarh, Bhubaneswar and Pune before the Tokyo Olympics.) The centres blends cutting sports science technology, physiotherapy, and rehabilitation.  In February 2018, the Orissa government signed a five-year deal (now extended to 2033) worth Rs 100 crore with Hockey India (the hoary Indian Hockey Federation's new name) to support the national teams. In August 2018, the JSW Group launched the Inspire Institute of Sport, the country's first privately owned high-performance training centre for combat sports (boxing. wrestling, and judo), athletics, and swimming.
Ticking every ugly box
Distanced from the pulsating thrills of the track, the ring, the hall, the field, and the court; post-Tokyo, Indian sport has methodically ticked many ugly boxes: sycophancy, glory-hunting, mediocre management, patriarchy, chauvinism, and casteism.
Let us start with the general response to women athletes. First, PV Sindhu's father, PV Ramanna, an athlete himself, told TV channels that Sindhu's medal would ensure the prime minister could have an ice-cream with her as he had promised via one of his recorded and distributed video calls before Tokyo.
Then, the women's hockey team, having lost their bronze medal match and distraught to a degree that no one outside their own skins would understand, had to deal with a video camera in their dressing room. Rather than find private time and space to deal with a defeat that crushed them, the team had to gather in a circle around a telephone on a table for a live exchange with the prime minister. They were barely able to hold it together, a few turning their faces away from the camera, heads tucked in behind other colleagues.
Captain Rani Rampal and coach Sjoerd Marijne addressed the telephone. In amongst the other messages of their inspirational play and call outs to various players – Navneet Kaur, Salima Tete and Vandana Katariya — the prime minister says to the team, "Aap log rona band kijiye. Mere tak aawaz aa rahi hai." (Stop crying, I can hear you all the way here.)
Rather than find a private time and space to deal with a defeat that crushed them, the [the women's hockey] team had to gather in a circle around a telephone on a table for a live exchange with the Prime Minister.
It was as if the women being talked to were not seasoned elite athletes who at that point in time were due the respect of privacy, but five-year-old children in tears over, well, no ice cream. Without cameras and the resulting free distribution of the video clips, the prime minister's support and commiseration for the women's hockey team would have been just as meaningful and moving.
But what do we know? In his Independence Day breakfast meeting with Olympic athletes — recorded by two video cameras, a still camera, and at least one if not two note-takers — two of the hockey players dutifully told the Prime Minister they were heartened by his intervention. The prime minister asked hockey forward Lalremsiami, the first female Mizo at an Olympics, whether she had a chance to return to home in the North East. Laresmiami's home is in Kolasib, the border district where policemen from Mizoram and Assam — both states ruled by the prime minister's party — are shooting at and killing each other.
A day later Kapil Dev's name appeared in The Statesman above a tribute to the prime minister's commitment to Indian sports beyond the sustained social media tweets, video clips, and announcements topped by an historic breakfast gathering. Dev, who was present at the breakfast, wrote feelingly: "It is not clear if any Prime Minister of India has ever said that he or she wants to create a culture of sports in our country and appealed to parents to encourage children who want to play sports. Perhaps Modi ji is the first to do so." They were to exchange more mutual praise on social media via their Twitter accounts.
In Tokyo, the Indian athletes reminded us once again of the best that we can be. Not in terms of what victory or medals, but in the purity of sweaty purpose and the breadth of dreaming.
One of Dev's most keen observations was the fact that the prime minister had also spoken to athletes who had a disappointing Olympics, including wrestler Vinesh Phogat and geed them up. It is not known whether Phogat told the prime minister the troubles she was facing from wrestling's ruling body. Phogat, along with Sonam Malik, was "temporarily suspended" for misconduct by the Wrestling Federation of India (WFI), headed by the prime minister's party colleague Brij Bhushan Sharan Singh. Their misconducts were listed out in detail to the press by an unnamed WFI source. News agency PTI quoted unnamed sources as saying: "These kids think, they have become star wrestlers and are entitled to do anything."
Phogat responded to the suspension through her lawyer Vidushpat Singhania. Sonam Malik's crime was asking a SAI official to collect up her passport from the WFI office and not doing so herself or asking a family member to do so. It was one kow-tow too less for the WFI. Had either Phogat or Malik won a medal at Tokyo, the WFI would not have squeaked, never mind let out their hollow, unsourced roars. Newsclick sports editor Leslie Xavier wrote that the WFI's actions against the women were "khap style" with more than a hint of "perhaps perverse patriarchal joy." (Ten days later, on 25 August, the WFI said it would "forgive" the wrestlers but said they would face a life ban if the "mistake is repeated again".)
It is difficult to disagree with Xavier. Table tennis player, Manika Batra was reprimanded by her federation for a "serious act of indiscipline," saying they would be soon issuing a show cause notice to her. The TTFI president happens to be Dushyant Chautala, the deputy chief minister of Haryana.
Indian sport has many captains—in sport, in industry, in politics, in public life—but very few leaders. In Tokyo, [the women's hockey captain] Rani Rampal was a leader in every sense of the word.
The news that hockey forward Vandana Katariya's family had faced caste abuse on the day India lost their semi-final to Argentina travelled quickly. Two men burst crackers outside her home, shouting that that there were too many Dalits in the hockey team and in Indian sport, which is why the national teams lose. According to the New Indian Express, one of three men arrested was an Uttarakhand hockey player who had practiced alongside Katariya. At his video call to the hockey team, the prime minister made an inquiry about Vandana Katariya's general well-being, but expressed neither regret nor consolation about what had happened to her home and family. Not on camera at least.
It took the hockey team captain Rani Rampal to respond forcefully:
  I just want to say to the people, aap please yeh sab cheezein band kijiye, (stop these things, religious [differences] casteism) because we work above all these things. I know we come from different religions, some are Hindu, Muslim, Sikh and we come from all parts of India – some from the north, some south, some east, but we come together we see just one thing that we work for and that is India. We do what we do for that flag, we sweat on the field day and night for that flag. It is such a shameful thing that we see there are people like this.
Indian sport has many captains — in sport, in industry, in politics, in public life — but very few leaders. In Tokyo, Rani Rampal was a leader in every sense of the word.
Post-Tokyo, the rulers and governors in Indian sport and elsewhere have come out looking, as always, seekers of credit and account-keepers of obeisance. The Tokyo story is now about them: their support for sport, and their outreach to the masses. Sure, elite athletes are not saints. None of them are. Off the field they are like us, many people of many kinds. In many parts, they are like their federation bosses, their coaches, like politicians and their eager minions. Like us they can also be insecure, greedy, manipulative, grasping, entitled. But the big difference between them and others in their sporting ecosystem, is that their talent is irreplaceable and their effort cannot be fabricated.
In Tokyo, they reminded us once again of the best that we can be. Not in terms of what victory or medals, but in the purity of sweaty purpose and the breadth of dreaming. Even as the murkiness around Indian sport keeps churning in the aftermath of Tokyo, we must hold on to what our sport and our athletes can do.
This article was last updated on September 05, 2021

The India Forum welcomes your comments on this article for the Forum/Letters section.
Write to: editor@theindiaforum.in
A new study of Patrick Geddes' work in in India underlines the urban planner's continued relevance to contemporary issues. But we have to ask ourselves why Geddes's ideas have failed to gain traction among our policymakers.
'There is law that applies to certain criminal activities, which are usually connected to older, corporal forms of power and profit, but there is a clear lack of law, or its applicability, to newer and currently dominant forms of 'incorporal' power and profit.'
Whose recourse to surrogacy is accepted socially and whose is frowned upon, or even legally prohibited, is a chequered terrain. Popular stereotypes have seeped into policymaking, even as social ways of family-making go beyond conventional usages of reproductive technologies.
Sign up for The India Forum Updates
Get new articles delivered to your inbox every Friday as soon as fresh articles are published.
The India Forum seeks your support...
to sustain its effort to deliver thoughtful analysis and commentary that is without noise, abuse and fake news.
You can donate any amount of your choice either once, every month or every year.