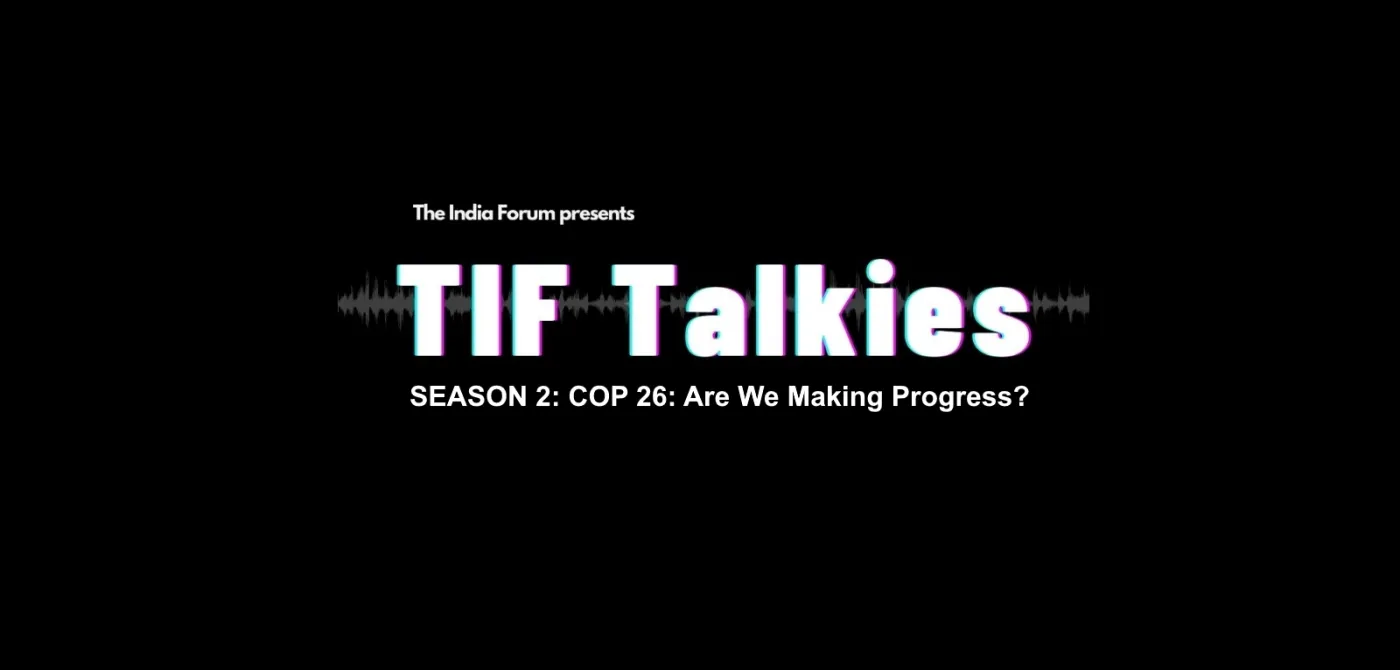 TIF Talkies: Aditya Pillai discusses the importance of building robust climate institutions in India
Welcome to TIF Talkies, a new audio initiative of The India Forum, where we hope to disengage from the ever-flowing torrent of the newscycle and follow up on contemporary events with a whole lot of questions— both big and small.
For the second season of TIF Talkies, we'll be engaging with the themes, discussions and questions raised by the recently concluded COP 26 in Glasgow. These will include India's climate policy, targets, and institutions, climate financing, and the nation's disaster preparedness.
In the first episode of the season, Professor Navroz Dubash discusses India's pledges (and their feasibility) at the COP 26. Prof Navroz Dubash is associated with the Centre for Policy Research, where he conducts research and writes widely on climate change, energy, and policy regulation. He is also a Coordinating Lead Author for the Intergovernmental Panel on Climate Change (Sixth Assessment), and is the editor of a recent book titled 'India in A Warming World'.
In the second episode we'll be discussing a crucial component of climate action and one that was kept at the centre of the recently concluded COP 26: climate financing. For this, we're joined by Prof T Jayaraman who is the Senior Fellow for Climate Change at the M. S. Swaminathan Research Foundation. He was previously affiliated with Tata Institute of Social Sciences and has written widely on climate policy, finance and environment.
In the third episode we discuss a component of climate action that was particularly highlighted at the COP 26, that is, the importance of traditional/local knowledge in meeting and forming climate goals. For this, we're joined by Dr Deepti Chatti who is Assistant Professor of Environmental Justice at the Humboldt State University in California. Dr Chatti has researched and written widely on political ecology, development studies, and environmental justice.
At COP 26, India announced five promises to work towards a greener future. But there remains some confusion as to how these will actually be achieved. In the fourth and concluding episode for season 2, we're joined by Aditya Pillai who speaks about climate institutions in India and their importance in discussions on climate action. Aditya Pillai is an associate fellow at the Initiative for Climate, Energy and Environment at the Centre for Policy Research in New Delhi.
Listen to the first episode here: Navroz Dubash discusses India at COP 26
Listen to the second episode here: T Jayaraman discusses climate finance at COP 26​
Listen to the third episode here: Deepti Chatti Talks About Traditional Knowledge and Its Place in Climate Discussions
Listen to the fourth episode here: Aditya Pillai discusses the importance of building robust climate institutions in India
This article was last updated on January 12, 2022

The India Forum welcomes your comments on this article for the Forum/Letters section.
Write to: editor@theindiaforum.in
'There is law that applies to certain criminal activities, which are usually connected to older, corporal forms of power and profit, but there is a clear lack of law, or its applicability, to newer and currently dominant forms of 'incorporal' power and profit.'
Whose recourse to surrogacy is accepted socially and whose is frowned upon, or even legally prohibited, is a chequered terrain. Popular stereotypes have seeped into policymaking, even as social ways of family-making go beyond conventional usages of reproductive technologies.
Anxiety amongst upper-caste diaspora that their narrative about a benign Indian culture would be undone lies at the heart of the opposition to California's bill to ban caste discrimination.
Sign up for The India Forum Updates
Get new articles delivered to your inbox every Friday as soon as fresh articles are published.
The India Forum seeks your support...
to sustain its effort to deliver thoughtful analysis and commentary that is without noise, abuse and fake news.
You can donate any amount of your choice either once, every month or every year.